Gregor JAKUBOWSKI Art Exhibitions in 2003:





___________________________________________________________




G.JAKUBOWSKI's personnal exhibition concomitant with :
" Un REVE de CHEVALERIE - Les NEUF-PREUX "

chateau de LANGEAIS - Institut de France 22 III-3 I. 2004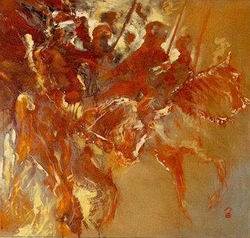 ---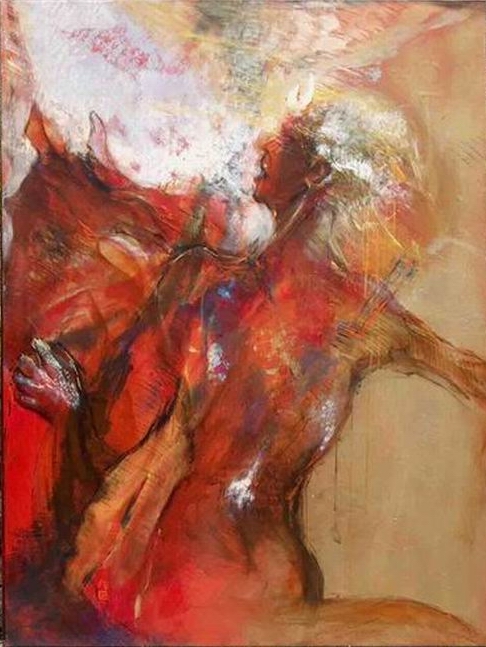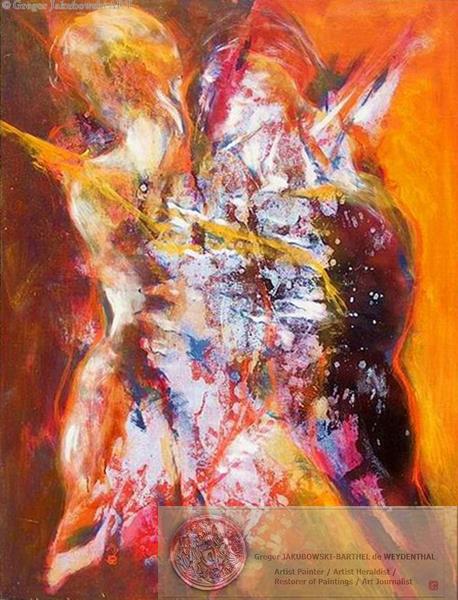 METAMORPHOSES Gregor JAKUBOWSKI, peintures et dessins"


CENTRE d'ART CONTEMPORAIN de BOUVET-LADUBAY


SAUMUR, France. 11 X 2002-12 I 2003





MALA GALERIA SZTUKI EMIGRACYJNEJ


/ Small Gallery of Art of the Polish Diaspora


Archiwum Emigracji, library of the University Mikolaj Kopernik


TORUN, PL 9 XI-XII. 2002





EMOTIONALISM Westfield Court, STAMFORD, CT, USA, 21 II-23 III 2003






Chateau de LANGEAIS - Institut de France 22 III.2003 - 4 I. 2004


G.JAKUBOWSKI's exhibition : " Les NEUF-PREUX" / The NINE WORTHIES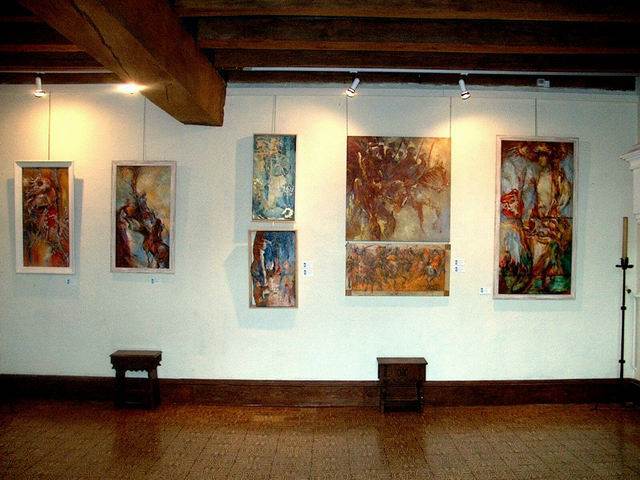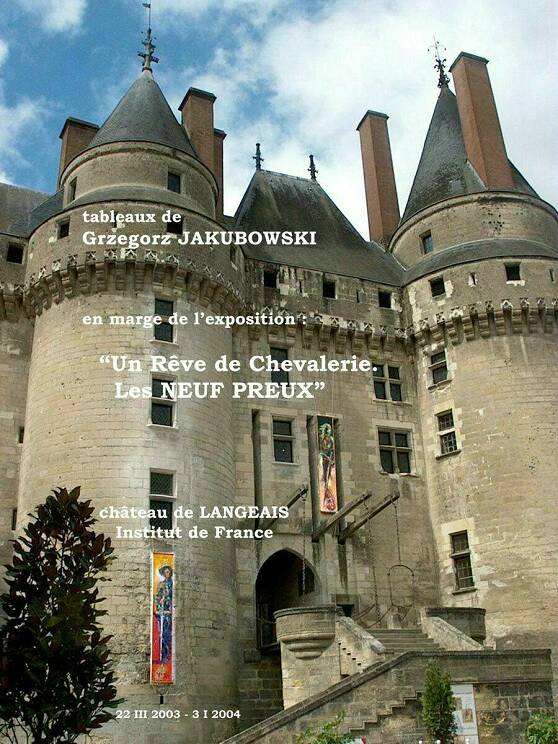 ALBUM from the Exhibition


NOWA GILDIA website on the LANGEAIS exhibition & G.J. GALLERY





Salon 2003, Groupe Artistique Vosgien GAV Musee Pierre Noel


SAINT-DIE-des-VOSGES, 29 III- 9 IV 2003


G.JAKUBOWSKI awarded : " Prix de Peinture 2003, Mention hors concours"


XVe Salon International de BEAUREGARD


Herouville-Saint-Clair. Calvados, 12-27 IV 2003


/ G. JAKUBOWSKI awarded : " PRIX NATION INVITEE - POLOGNE"



2003 WILSON GALLERY Art Exhibition


Mountain Lakes, New Jersey, USA 3-5 V 2003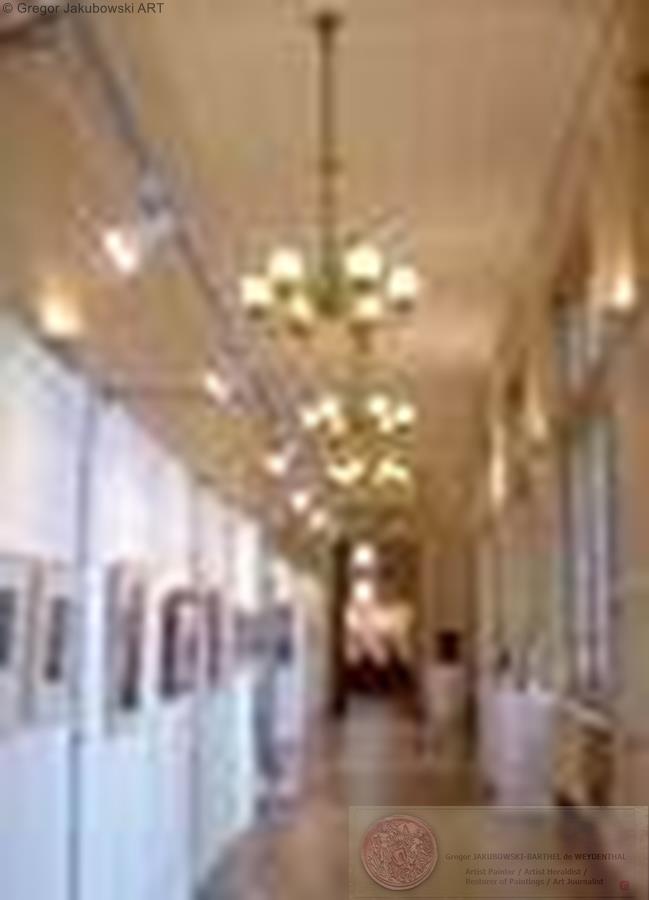 Cercle Municipal des Gobelins et des Beaux-Arts, 74e Salon


Mairie du 13e, PARIS, 5-17 V 2003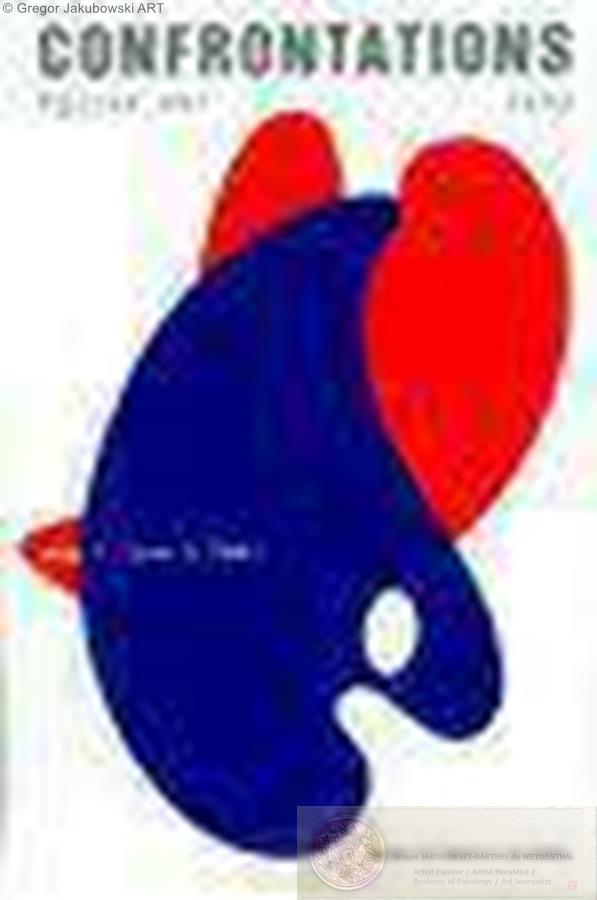 POLISH ART CONFRONTATIONS 2003


KRAK Art Group - Consulate General of Poland in Los Angeles


MODERN ART Gallery, LOS ANGELES, USA 3 V-3 VI 2003


"Montmartre a MONTMORENCY" V-VI 2003


G.J. awarded Medaille d'Or peinture de la Ville de MONTMORENCY - 2002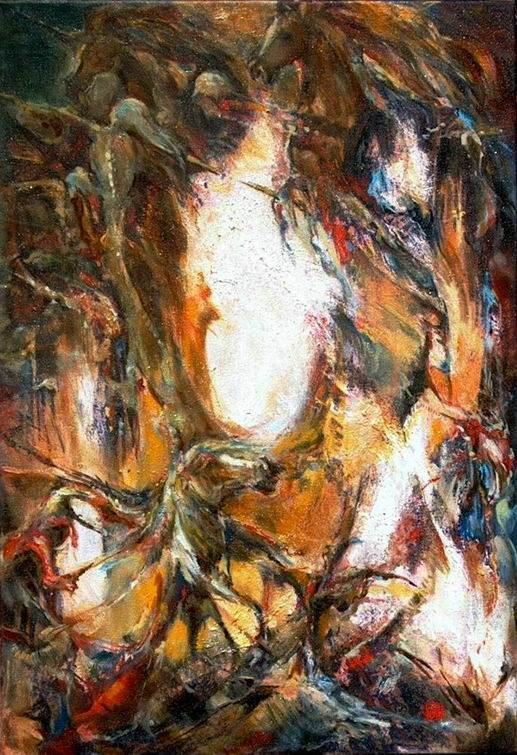 I Festival of POLISH CULTURE - GREENPOINT Festival


Polish & Slavic Federal Credit Union, NEW YORK; 12-15 VI 2003



SAUMUR, Art Heraldique Maison de la Reine de Sicile, GJ. - Equestrian Art,
/ exhibit canceled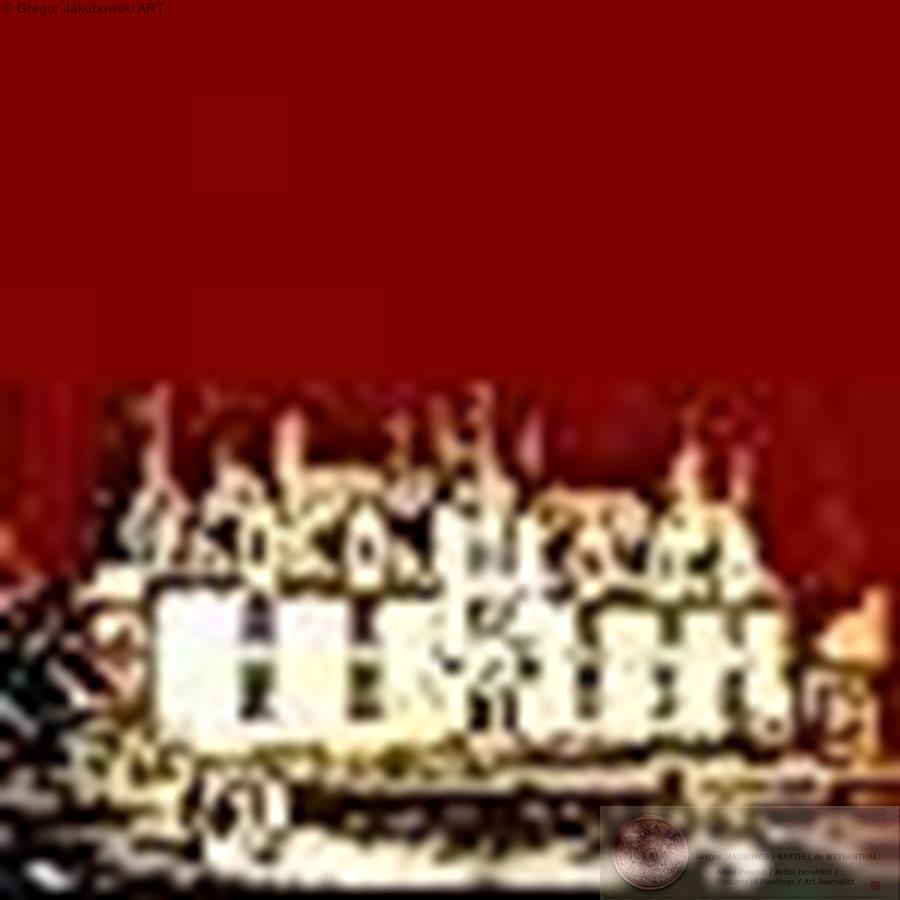 " MUSIQUE et EMOTIONS PLASTIQUES", chateau d'ARS 10 VII-31 VIII. 2003



Grzegorz JAKUBOWSKI, Lubomir TOMASZEWSKI


& Ivan Bratko, Maria Fuks, Janusz Skowron

ALBUM



Press release



Public creation of G.Jakubowski & L.Tomaszewski during the Rencontres Internationales Frederic CHOPIN : Les couleurs de Chopin, La CHATRE - chateau de NOHANT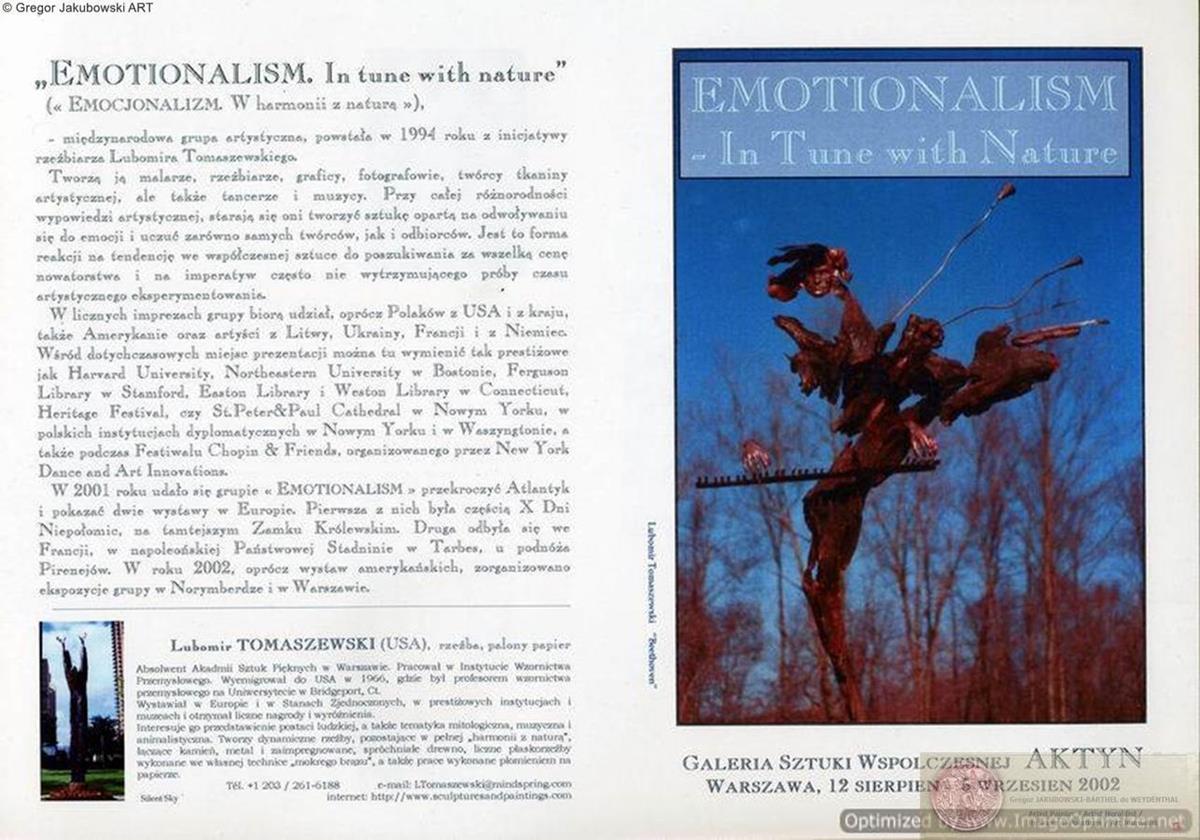 " W HARMONII Z NATURA - W POGONI ZA UCZUCIEM"


/ In tune with nature - In pursuit of emotion


Muzeum Historii Polskiego Ruchu Ludowego, "Zolta Karczma", WARSZAWA, 11 VII-30 IX. 2003



EMOTIONALISM. In tune with nature



Lubomir TOMASZEWSKI sculpture, burnt pictures

Julia AMBROSE sculpture


Maria FUKS peinture

Grzegorz JAKUBOWSKI painting & drawing


Renata KOMORNICZAK sculpture

Mieczyslaw "Mietko" RUDEK photo


Janusz SKOWRON drawing

Josephine TOMASZEWSKA fiber


Krzysztof MEDYNA music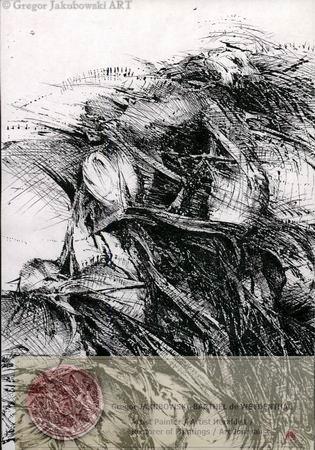 MHPRL, SANDOMIERZ, 7 XI - 31 XII 2003

MHPRL, PIASECZNO k/Gniewa, III 2004

PRZEWORSK, VIII 2004



EMOTIONALISM. In Tune with Nature


"CHEVAL - EMOTIONS"
Grzegorz JAKUBOWSKI with Lubomir Tomaszewski

chateau de BRISSAC VIII - 3 XI. 2003


EQUI'DAYS, Horse art, Bonnebosq, Calvados, Normandy, France, X 2003



PROGRAM 2003 (WARSZAWA - PARYZ - NOWY YORK)

ProGram 2003, WARSAW I-IX 2003

ProGram 2003, GDANSK, Galeria Mlode Miasto, Kolonia Artystow, Stocznia Gdanska, 18 VII-31 VIII 2003

ProGram 2003, KAZIMIERZ nad WISLA, Galeria "i", 16-31 VIII 2003
ProGram 2003, SOPOT, VIII 2003

ProGram 2003, OLSZTYN, Galeria RYNEK, 19 IX-X 2003

ProGram 2003, KRAKOW, Klub Dziennikarzy "Pod Gruszka", 1-30 IX 2003

"RETOUR A LA SURFACE", ProGram 2003, Espace Tristan Bernard, PARIS, 10 - 30 XI 2003



"INSPIRATIONS". Inspiracje - w kregu emocji
Polish & Slavic Federal Credit Union, NEW YORK; 14 - 20 XII 2003

EMOTIONALISM group
Sculpture :
Lubomir Tomaszewski, Ivan Bratko, Julia Ambrose, Renata Komorniczak, Piotr Woroniec.
Painting : Aleksandra K. Nowak, Maria Fuks, Grzegorz Jakubowski, Jason Ward, Artur Skowron, Zbigniew Nowosadzki
Drawing / Prints : Egidijus Rudinskas, Marek Koczela, Janusz Skowron, Sewer Salamon, Beata Kornicka-Konecka.
Fiber : Josephine Tomaszewska, Natalia Tomaszewska
Photography : Eva Rubinstein, Janek Hausbrandt, Siloe, Mieczyslaw Rudek, Piotr Medyna
Music of Krzysztof Komeda. "Komeda Project" : Krzysztof Medyna, Andrzej Winnicki, Dave Anthony, Russ Johnson, Eiwind Opsvik
Dance : "Dynamic Duo": Kari Neals & Chera Mack




Gregor Jakubowski
Musee du Vin, Paris

/exhibition was canceled/