CARYATHIDES cycle paintings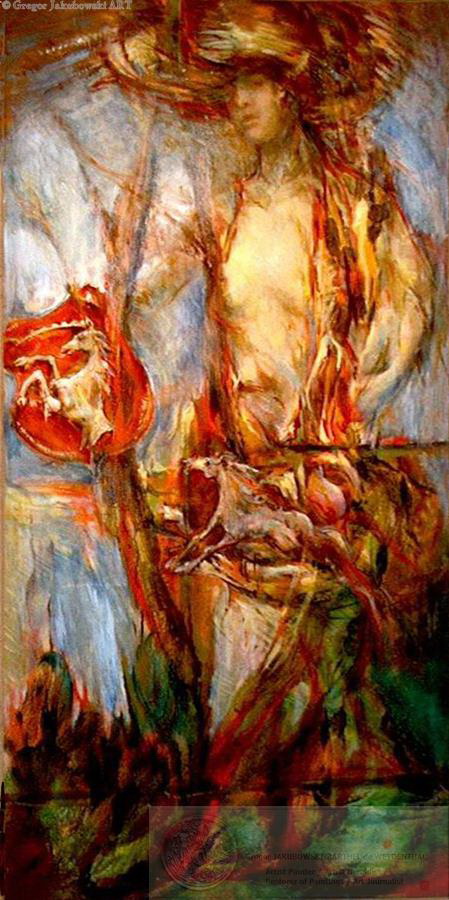 ATTENTE-Sulima/Rogala
---
Grzegorz (Gregor) JAKUBOWSKI - BARTHEL de WEYDENTHAL

is born in 1957 in CRACOW, Poland



where he attended the Bartlomiej Nowodworski I Liceum and the WSP


(Wyzsza Szkola Pedagogiczna)

Later he studied ARCHITECTURE at the POLITECHNIKA KRAKOWSKA
(TECHNICAL UNIVERSITY of CRACOW)
, between 1976 and 1981



Lives in PARIS since 1981.



In 1982 he entered the ECOLE Nationale Superieure des BEAUX-ARTS in PARIS, studying with Ferit ISCAN, Abraham Hadad and Vladimir VELICKOVIC
where he graduated with mention in 1988



He was also trained in RESTORATION of ancient paintings in the
Ateliers Saint-Gervais in Paris, between 1982 and 1986




He has EXHIBITED all over Europe and in the USA and his PAINTINGS and DRAWINGS

belong to public and private collections in :

AUSTRALIA

AUSTRIA

BELGIUM

BULGARIA

CANADA


FRANCE

GERMANY

GREAT-BRITAIN

HOLLAND

HUNGARY


IRELAND

ITALY

JAPAN

JORDANIA

POLAND


SPAIN

SWITZERLAND

TAHITI

USA

VATICAN.




He was AWARDED with numerous ART DISTINCTIONS :


Prize at a Competition of the GAUGUIN Museum in Tahiti,

Ecole des BEAUX-ARTS in PARIS and the Musee d'ORSAY in 1988


Grande Finale, XXlVth GRAND PRIX de la Cote d'Azur in Cannes in 1988


RUBENS Prize of the Town of Antwerp in 1989


ACADEMIE INTERNATIONALE de Lutece in Paris in 1993


TROPHEES de la Couleur in Le Mans and in Paris in 1995


5th and the 6th SALON INTERNATIONAL de Saumur in 1997 and in 1998


GAV Salon in the Pierre Noel Museum in Saint-Diť-des-Vosges in 2001


Golden medal of the town of Montmorency for a painting in 2002

Salon 2003, Groupe Artistique Vosgien GAV, Musee Pierre Noel,

SAINT-DIE-des-VOSGES, ; "Prix de Peinture 2003, Mention hors concours"

XVe Salon International de BEAUREGARD. Herouville-Saint-Clair. Calvados;

"PRIX NATION INVITEE 2003 - POLAND"

etc.




He is a MEMBER of ART GROUPS and Cultural societies as the :




"EMOTIONALISM. In Tune with Nature" mouvement, based in the USA


the SOCIETE HISTORIQUE et LITTERAIRE POLONAISE in Paris


SOCIETY of FRIENDS of the POLISH MUSEUM in RAPPERSWIL, Switzerland


as well as HERALDIC ART associations in France and in Poland.


He took part in the ORGANISATION or was the author of the EXHIBITIONS
and cultural events in France, in Poland and in the USA,


mainly in the scheme of the BIBLIOTHEQUE POLONAISE in Paris and its
Boleslaw BIEGAS and Adam MICKIEWICZ MUSEUMS,

CHAIRMAN and author of rebirth of the UNION des ARTISTES POLONAIS en FRANCE,



Has organised exhibitions and events of the UAPF:
"Union des Artistes Polonais en France", MPT, LES ULIS, 1995.
"QUELQUES ARTISTES POLONAIS en FRANCE. HOMMAGE a VAN HAARDT",
Espace Marcel CHAUZY, BONDY, 1996.
Participation in the organisation (with Pierre Sulik, Annick & Pierre Debien) : "2emes Rencontres Internationales de SAINT-AUVENT" in 1997 & "PEINTURE and LITTERATURE POLONAISES", Centre Culturel La Visitation, PERIGUEUX, 1997.



He has RESTORED PAINTINGS and polychrome sculptures dated from XVth to XXth centuries
for private clients and for institutions in FRANCE, in MADRID, in MUNICH and in MALTA.

WRITINGS on ART for Polish revues in Cracow, Warsaw, Paris and New York

Past and present PASSIONS :
HERALDRY,
HISTORY, BOOKS, MUSEUMS, MUSIC,
HORSES, SKI, MOUNTAIN, SAILING.
Next: G.J. BIBLIOGRAPHY & Ink Drawings